This weekend we spent some time with my husband's grandmother Phyllis in suburban Melbourne after a week of work in the city.
Today we went up to Healesville to visit Tarrawarra Museum of Art and on the way stopped in Yarraglen to have lunch. Amongst the antiques and secondhand stores I found some lovely buttons and pored over some vintage lace. While I was looking, Phyllis kept insisting she had some buttons in a cupboard as well. I carefully chose a few carded buttons that I could see myself using.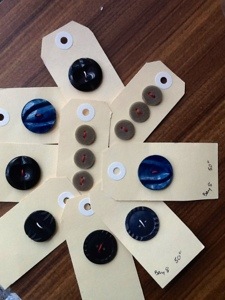 When we got back at the end of the day I dived through the two shoeboxes full of more modern buttons. I've chosen some to bring home and left the rest for someone else to use. They were unsold stock from my husband's uncle and aunt's secondhand store.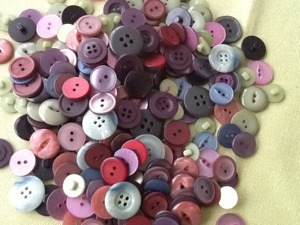 And the last part of playing with sewing stuff (rather than, you know, actually sewing), was dragging an old Singer out from under a dressing table. This was previously Nan's sister's machine which she used for years. When her Aunty Kath passed away, my husband's mother insisted it be kept and it has been waiting for someone to bring it back to Tasmania. It is NOT light enough to be carry on luggage. All we knew previously was that it was a Singer in a curved wooden case. It turns out to be what Google images suggests is a 201k, and it still sews. The power plug is very cracked so we did not plug it in, but turned the hand wheel by hand, as you do. It needs a new power cord and plug, and a new spool pin. And a very good clean and oil.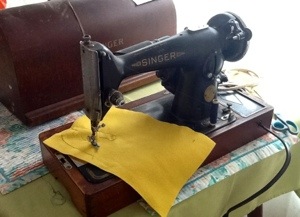 The Singer got tucked back under the dressing table to wait for someone to bring their car over on the ferry.
I might have also bought some fabric – knits from The Fabric Store's knit sale and some suiting from Darn Cheap Fabric to make the black work jacket I seem to be missing from my wardrobe.