Look what the postman brought me! TJ, the instigator and co-ordinator of the One Cool Thing/ One Strange Thing swap sent bonus packets out to each participant which is a truly generous idea. I'd let on that I'm trying to inject some more colour into my wardrobe and this luscious blue green DKNY knit hits the spot beautifully. I'm spoilt for choice of patterns with the Knipmode March 2012 and the special extra included. And it needs to be a pattern that will make the most of the gorgeous button TJ included.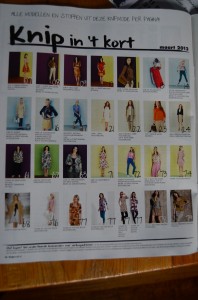 A dodgy photo of the overview page from this Knipmode.
Thank you!! I'm looking forward to finalising my plans for this fabric and revealing the make here on my blog.