This will be a pretty short post (because there hasn't been much sewing lately). Since Easter the sewing machines have been resting until this week. Some ongoing health issues combined with change of jobs and our son moving interstate for uni have been swallowing up all my energy.
Over Easter I was lucky to be a tester for Mari of Disparate Disciplines Avocado Hoodie for my son. It turned out really well – initially he was a little doubtful as he hasn't been one to wear hoodies, but he put it on and didn't really take it off for several days. I used a light grey merino/nylon unbrushed fleecy from the Fabric Store bargain bin. Over the Easter break his girlfriend also selected some merino to make the female version which is still in the planning stages, well at least I've printed the pattern. Looking for a photo of the hoodie I also found a waistcoat I made him in a hurry when he had a cocktail party to go to.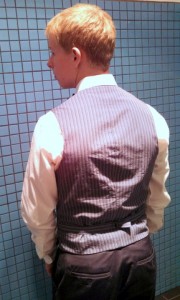 Since then I've been focussing on knitting socks as that is a small craft activity for me that can easily be picked up and put down. It was enough to tickle my itch to be creative. A month or so ago I cut out two Tiramisus from Cake Patterns. And the pieces  patiently waited for my energy levels to rise enough to contemplate sewing.
The deadline of Frocktails as organised by the wonderful Kat and an increase in energy levels brought about a clearing of the sewing area and the sewing of two Tiras this week – one slinky black knit, and another in grey ponte. I lengthened the sleeves for the black one so they are slightly below the elbow. When sewing and trying them on it really emphasised the difference that fabric makes – both are great, just different to each other. Sewing these was a little like eating comfort food – I'd already dealt with needed pattern alterations and understood the construction process. I really like being able to make two at once – the colour was close enough to use black thread for both and the fabric and sleeve options makes them a bit different. Comfort sewing? Like comfort eating without the calories.
And then I cut out another dress for Frocktails which is a little more 'frocky'… the black Tira would be fine but the sewing bug has bitten me.