Reminder: The Pattern Pyramid giveaway here closes this Thursday night. Add a comment for your chance to join the fun and the stalkers.
A few weekends ago we stopped by the Evandale Market on a Sunday morning as we travelled back home from the north of the state. We were travelling with a friend, and at one point my husband Robin wandered off and then was back telling me about an old green Elna sewing machine in a case. The three of us made a beeline over to the stall to find an old Elna Supermatic in amongst antiquey stuff and tools.
I turned the flywheel a bit and it gradually loosened up. I also toyed with the idea of taking it inside the hall and seeing if I could plug it in and see if the motor worked. It looked clean inside the bits I could open. I faffed about, umming and ahhing and generally over thinking it, until my dear sewing enabler friend Jenny pointed out that the guy was asking the price of a nice bottle of wine and I wouldn't think twice about that. So wise!
We lugged it back to the car and then drove the 2.5 hours home. About halfway I said, 'it didn't have a foot pedal!' but resisted stopping at the side of the highway to double check. I thought that was a shame but perhaps I could find one. When we got home we opened up the case and set it up on the dining table. The weird metal lever on the front revealed itself to be a knee control – first one I'd ever seen or used. I plugged it in and turned it on. Apart from sounding like a tractor it ran ok, the light even worked. I then unplugged it, opened it up and oiled all the important moving parts.
Gradually it ran more freely, you could hear the oil doing it good. It became a slightly quieter tractor.
It is a solid zigzag machine, that can also have decorative stitch cams inserted. There were no accessories at all with the machine, just one lone bobbin and the zig zag cam. Being an Elna, I tested the feet from my modern machine, and they are all interchangeable! Note to self: do not do stitch samples on stretchy drill material. It took me a while to figure out what was happening.
You see, a large part of the attraction was that I learnt to sew on an Elna Lotus SP, my mum's machine, which she still uses. It was easy to use, precise and worked everytime you needed it. When I went shopping for my own machine in the early nineties, I gravitated towards an Elna then too. My modern Elna has been a very reliable machine which has done a lot of sewing.
Confession time: after bringing home the Supermatic I spent some time on Google and discovered a whole 'nother world out there. Aren't they pretty in a post-war mechanical pseudo industrial way?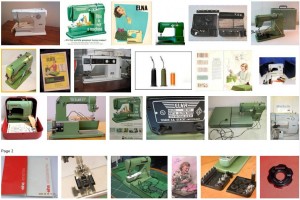 And the most useful find? The Yahoo Elna Heirloom Sewing Machine group. A wealth of information and sharing. I was able to diagnose the tractor sound effect, remove, clean and replace the bobbin mechanism, learn how to disengage the main motor to wind bobbins, and more from this helpful group of people. Beautiful!
A gentle word of warning. Don't google Elna and look at the pictures of an earlier model – the No#1 aka Grasshopper. Because you might just find one for sale at the price of two reasonable bottles of wine. Oh dear. You can be sure I'll let you know when it arrives.