Warning: Long post
These collections were the outcome of a recent fabric cupboard perusal. I've been feeling a bit directionless, so staring at a cupboard which, to be honest is a bit too full of fabric has contributed to a sense of overwhelm and erratic sewing activity. I thought about what clothes gaps I might have coming into Me-Made-May and also about which garments I am wearing a lot but bored of. ("of which I am bored" for the grammar nazis?)
From left to right the blues are making some racer back tank tops, the two blacks are for leggings and the stripey cream and khaki will also become a top. I've previously made a couple of tops following the Slapdash Sewist's lead using Jalie 2563 as a base and extending the bodice pieces to  covering midriff. No need for me to scare people before breakfast at the gym. I am working on a pair of leggings with curved seaming which are drafted, cut out and just waiting to be sewn. I'll have the opportunity to borrow my mother's overlocker which has coverstitch capability while she's enjoying herself elsewhere so these garments will be my practice ones to see if I really need a coverstitich machine or it's just gadget lust.
Activewear Garment count – as many tops and leggings as I can squeeze out of the fabric, probably 3-4 of each sewn in a production line to make it quick. I need to throw out several older pieces of my gym clothes before they finally self-destruct.
I bought a few RTW pieces of work clothing in the middle of last year and some have already worn out. Based on the OWOP week it would appear I also heavily rely on a very, very old black cardigan and a lot of my clothing is grey or black or similar dark tones. As a replacement and to inject some colour, the red is a thick merino doubleknit which I've already made up into a semi-self drafted cardigan (photos and writeup to come). The cardigan has simple lines and is a perfect addition to the work wardrobe. The black is a burnout knit that will be made into a useful wrap top, maybe Burda 01/2011 #131? The green ovals knit will be Vogue 8663 in View B below, partly because I already have the pattern. I bought it last year and then couldn't find any nice knit fabric and forgot about it.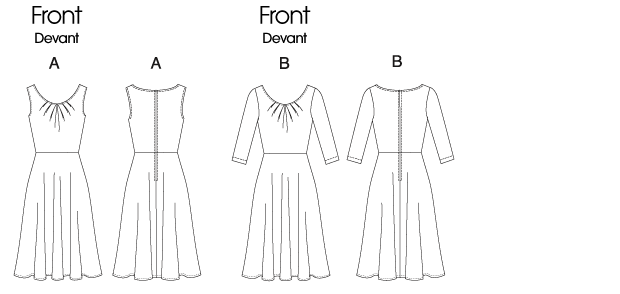 The grey bubbles fabric will be a simple shell top to sit neatly under a cardigan or jacket. Possibly made into the assymetrical cowl from Pattern Magic vol 2 which I have drafted and tested. Last in that line up is some leftover grey wool/poly blend to make a simple pencil skirt. Workwear – 5 garments
And when I'm not at work, sleeping or sweating? Then what I need is a green corduroy Crescent skirt with some brocade trim at the hem – Done! and I love it. The green merino knit is the same colour in real life  as the cord but comes out quite different in the photo here. Mysterious. That green and the grey merino next to it will be two long sleeved tops – depending on the material I might get a cowl Renfrew, if not, a boatneck style will be the most useful. Next along the line, is my linen lion dress. I bought the lion fabric first as two slightly larger than fat quarter remnants, then matched some orange linen to coordinate. I've rejected a few patterns so far, and am toying with Simplicity Lisette 2209 for the cute pleats on the front bodice. But I wonder if I'm being swayed to it by the ruffle on the jacket – lion/ ruffle? There is a similar bodice pleat design to the Lisette dress in a book I bought – How to Use, Adapt, and Design Sewing Patterns by Lee Hollahan. And I'd want sleeves too, even just cap ones so I'm going to be frankenpatterning anyhow. Yeah, and the elephant dress too, although that is more summery in my mind.
Casual – 5 garments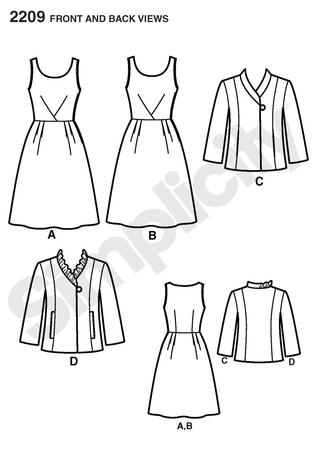 PS: when I showed these photos to my better half he asked where 'his stuff' was. The men of the household have a list too. For my husband – a black wool flannel coat (like on Spooks, using the Japanese men's coats and jackets book), a purple Negroni with Stand Collar addition shirt and perhaps another gym top. And for the son? Some PJs to replace the holey pair he keeps wearing, a blue striped shirt (also Negroni adapted) and a grey merino cardigan/ jumper (style TBD). I've got all the fabric and most of the patterns for these too.
Just need a time machine. Although the insomnia is helping

I'd better get sewing!