We did contemplate using the garden hose to create 'rain'…
I'm really delighted with how this jacket has turned out. It is as useful and as crazy as I was hoping. The photo showing the reflective piping is the most accurate in colour. Dare I say some of the others look a little washed out? The Minoru pattern is beautifully designed, and I think it is one of the first raglan sleeve garments I have made and liked. I did make a couple of tweaks:
I changed where the hood was attached, and followed the suggestion to line it. I also added an elastic drawstring.
I added an underlay to the zipper opening.
I added reflective piping to the raglan seams. After I'd sewn the sleeve seams I discovered this fabric needed a bit more room for comfortable arm movement so I slashed up the sleeves vertically and inserted an extra 7cm (guided by the fabric). I made it into a 'design feature' by running reflective piping in the seam.
I added welt + flap pockets to the front. I lengthened one internal pocket to fit my rectangular wallet.
And I skipped the elastic cuffs as I wanted a more jackety look. I did have thoughts about buttons and tabs for cinching them in, but decided they were great as a simple turned up hem.
The Fabric
Loud, I think is a good description of the colour and pattern. The first but definitely not the last time I've sewn a waterproof fabric for a garment. iPad covers with the coating on the outside are a lot easier! I used seam sealing tape (thanks to Caroline's guest post on rainwear at Sewaholic.net), learnt about teflon feet and masking tape.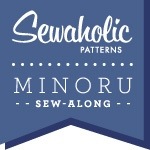 Thanks to Tasia for hosting the Minoru sewalong – it gave me the impetus to get started and make use of my birthday present pattern. Through this pattern and sewalong I am feeling braver about adding my own ideas to a solid base pattern, and also having a great deal of fun documenting the journey. I love the creativity that goes into a project like this. I was inspired by seeing everyone's finished Minorus when the pattern was first revealed and I am keenly anticipating many more Minorus popping up all over the interwebs soon. I did finish early as the end was in sight and I needed the sewing to keep me sane.
Fabric: Waterproof Riley Blake design cotton, coated 'PUL'. Source http://nappiescovered.com.au/ Prompt service, realistic colours in their photos and useful information online including how to use seam sealing tape.
Cost: $90 for fabric, $12 for seam sealing tape (+postage), $10 lining fabric, $3 thread, $7 for zips (+airfares as bought on interstate leisure trip), $5 reflective tape (+ airfares as bought extra length interstate on a work trip!).  $15? teflon foot, Pattern – birthday present from my dear husband – priceless

So not cheap, but truely one of a kind. Early in December I saw some unlined waterproof trench coats imported from The Netherlands for about $180, so it is comparable. I don't think I really should count two lots of interstate airfares, although it does highlight that the only thing bought locally for this jacket was the thread and lining. Everything pretty much was mail order or bought while interstate. Are you hearing me Spotlight?
Hours: not sure…
Pattern: Sewaholic Minoru
Make again? Most likely in a cotton unbrushed fleecy without a hood as a snuggly comfy jacket.
Okay, next project – something from leftover fabric and quick to sew