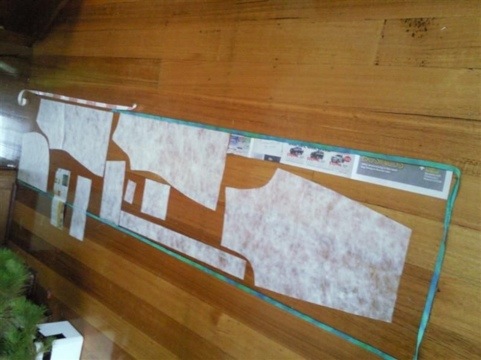 I traced out all the pattern pieces (giving me the option of making another size later if need be) and laid them out to get a sense of the fabric required. At 115cm wide fabric 4 1/4 yards (3.8 metres) seemed an awful lot and the provided cutting layout looked generous. And I'm going to have to shorten sleeves a bit too. The fabric I have chosen is only 106cm wide. Yet my layout gives me a 'fabric required' of only 2.8 metres at a size 10. The only piece shown as upside down is the hood, so with an extra 20cm I'll have enough to turn it up the right way. The pattern repeat of circles is 4.5 cm so shouldn't be too tough to match. I also have the large sample piece I ordered for smaller things like pockets.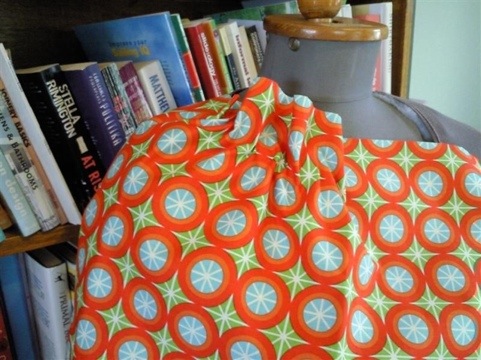 I ordered 3 metres of this lovely creature. It is a waterproof PUL coated on the inside cotton print from Nappies Covered and has a lovely drape for a coated fabric. I had ordered three samples, aka 'nappy cuts' to see what the fabric felt like, and to check colours. Well worth the money to know what it was like and how gorgeous and intense the colours are. Of the three, this was the clear stand-out. I did a mock gather by squishing the fabric onto sticky tape on the wrong side and it looks OK. So it should work around the neck and waist gathers.
I also spent some time studying my son's collection of waterproof jackets that he has bought for sailing and walking. The inside of the collar of all of them is cut out of micro/polar fleece fabric which is nice and snuggly around the neck. So I am stealing this design idea. Another design idea was to use the seam sealing tape to coat the outside of zips for pockets on the front. I am not sure about this yet – I might go for a welt pocket with a zip inside that will probably stay open most of the time. Pockets were lined in polar fleece too. The expensive jackets have so many details and features.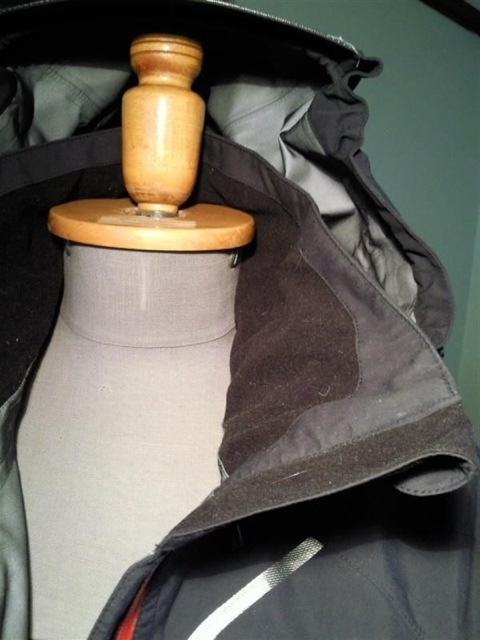 After reading Rachel's notes about how her Minoru performed in Melbourne rain, I had a close look at the way the hoods were attached. Seam sealing tape again appears to be the answer, coating the seam between the zip and the lining. I'm going to experiment with this and post as part of my Sewalong updates.