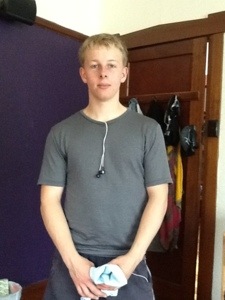 My sewing knee (the right one) has been playing up which has limited my sewing, but when I sent myself home from work on Tuesday I got to indulge in some surrogate sewing. In the hallway were some pieces of fabric out from the stash – my son had been through the cupboard and found some fabrics he wanted to make into gym wear. The grey merino was from the Fabric Store earlier in the year – purchased by my mother for Zac on a trip to Melbourne with the plan to make a long sleeved tshirt. Some had already been used as lining in a bush walking vest. Zac asked if there was a pattern with instructions he could use. I recommended the Sewaholic Renfrew pattern as they are so clear and straight forward.
Then Zac found the tshirt pattern we'd drafted for him earlier in the year, I adjusted it for a now-broader chest and he cut it out, sewed it up and wore it to the gym on Wednesday morning. He used the overlocker for most construction steps, the regular sewing machine for some reinforcement on underarm and shoulder seams, and the cover stitch machine for hemming sleeves and body. I'm totally impressed with the quality of output – and pleased to have passed on some sewing skills and confidence to the next generation.
And it passed the gym-wearing test ( photo taken just before), and it is now waiting to be washed. PS : The photo quality is rubbish thanks to this photographer lying in bed and using her iPad to take it.
Next up he wants to make himself some shorts.